Energy Saving Devices
​Survey – We undertake a free site survey
Design – We recommend equipment specifically to meet each client's individual needs
Installation – By fully qualified engineers, in a time scale to suit you
Maintenance – Tailor made maintenance contracts to keep your security system at its best.
We Supply and Install a wide range of Salto Door Entry Systems.
If you would like more information or a quotation please Contact us on : 01392 277467
---
Energy Saving Devices
​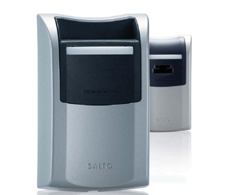 The SALTO in room energy saving device (ESD) helps to save up to 65%* of a hotel room or student dorms electricity consumption and unlike standard (magnetic stripe) energy savers, only authorized SALTO key cards will switch on the lights. Any other card (frequent flyer, business card etc) or other SALTO cards belonging to other rooms, will not activate the lights.
It is also available in a connected on-line version, which as well as energy saving indicates in real time the presence of guests or staff in a room, logging the information directly into the hotel PC. When a guest enters the room and inserts their card into the ESD it switches on all electrical equipment. When staff enter the room for cleaning or maintenance, the ESD recognises their staff card and switches on only the electrical equipment they need to do their work
Available colours: Satin chrome and Champagne.
Main features
2 different finishes for different room styles.
Available with 1 or 2 relay outputs.
With window detector input, If window is left open, the system will switch off the air conditioning.
Flexible exit time delay by software.
Modern Blue LED indicator which indicates the location of the device in the dark, and blinks as a courtesy indicator after retreiving the card when leaving the room.
Available in iButton, smart card and RFID (Mifare, Desfire, Vicinity).
On line version available in contact smart card and RFID models.
Technical data
Input voltage: 220 Volts AC +-15%
Consumption: 1 watt in rest mode, 1.5 watts when activated
Number of relays: 1 or 2
Relays power cut: 2amp 220v
Max. section for power and relays contacts conector: Straded wire section: 12 AWG (2,5mm2). Strip lenght: 4-5mm.
​Max section for windows detector conector: Stranded wire section:16 AWG (0,5mm2). Strip length: 4-5mm.
Connected Online Version
Serial connected by bus RS485. Last ESD of the series must be connected to a Salto ONLINE control Unit (CU50EN or CU50ENSVN)
Max. Number of ESD connected per Control Unit: 40
* Estimation based on SALTO surveys on energy management.